Team Building at your office to bring play and energy to planning sessions, summits, and team days.
Team Offsites in beautiful locations with playshops, team building, amazing food and happy hours.
All inclusive luxury overnight corporate retreats with cozy cabins, comfortable beds, and executive chefs.
We've helped thousands of employees connect and play.
Let's talk about what we can do for your team.
We love the teams we work with!
In its third year, DWeb Camp is a five-day retreat that brings together builders and dreamers from around the world to connect, learn, and share in a collaborative environment. Grounded in nature and focused on building a better, decentralized web, this event provides a safe space for exploring the hidden dynamics and consequences of technology while building tools to solve real-world problems.
Participants are encouraged to share their gifts through a range of activities, from giving talks and leading workshops to hosting events and facilitating small groups. With a focus on discovering the connections between nature, technology, community, and the self, DWeb Camp provides a unique opportunity to explore the flows that drive us all.
You're good at what you do! [Custom Camps] took a group that included many HR professionals who have run lots of icebreakers and other group events and gave them a totally new experience. One person was quoted as saying "I didn't realize this team could have this much fun."
- Autodesk People & Places Team
"Getting 1200 people out into woods and back again - with smiles on their faces the whole time - is no small feat. I talked to literally hundreds of people over the last couple days, and all of them were blown away by the experience. On behalf of everyone at Samsara, THANK YOU!" - EVP, Marketing 
"This was one of the best off-sites I have experienced so far at Google. I feel like I really had an opportunity to connect with teammates that I have not been able to connect with in the past."
Custom Camps team did an amazing job putting together our overnight work retreat in the redwoods. We are very glad we went with them, as they were tasked with organizing our event for almost 300 people in a short amount of time. What makes them unique is that they are full-service and will make your job so much easier.
They did everything including finding a great location, organizing many fun activities, and working with us every step to ensure a smooth and well-coordinated event. Custom Camps helped deliver on building great team camaraderie, providing many memorable experiences, and creating an overall fun time that left everyone energized and refreshed. They went above and beyond our expectations and we'd definitely use them again!
- Jason Chan, Google
"This was such an amazing experience, and I feel so grateful to have gotten to be a part of it. The agenda was so well thought out, and it was the perfect way to kick back and relax a little bit from our busy schedules. "
"I hope we can do this every year! This should be an annual trip!"
👏🏽 "The background noise in most videos I took this week is just people cheering and laughing. I loved being in a place where everything you did, from rock paper scissors, to conquering your fear of the speed slide was met with raucous applause." - Cockroach Labs
Playshops are small group activities that foster team connection. We limit them in size to about 15 people and offer a wide selection at our events.
Sweet Maria's will show you how coffee goes from plant to table, what happens to coffee when it's roasted and how easy it is to roast your own.
Test your balance and walk on a line for the first time! You will be amazed at how fast you can learn.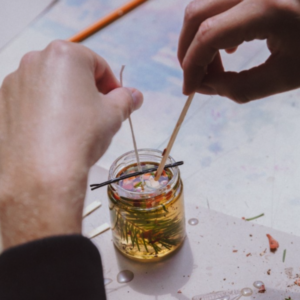 Make a beautiful scented all natural soy wax candle, incorporating natural elements from camp!